When it comes to creating an unforgettable event, the location is as important as the occasion itself. And when that location happens to be your childhood home, it's especially special. Newby Hall, nestled in the picturesque North Yorkshire countryside, provided the perfect backdrop for artist and designer Sasha Compton's wedding to Tom Holliday. And it was us at Wills who transformed the stunning herbaceous border with a bespoke traditional canvas and pole dining marquee that captivated both guests and the readers of Tatler Magazine.
As an artist Sasha had a clear idea of how she wanted her wedding to look. 'From the beginning, we always had a theme which was rustic romance,' she laughs. 'Which kind of tied in our love for craft cider, craft beer and that kind of handmade feel linked to our love of being outdoors – just lots more understated.'  –  Tatler 
Traditional canvas and pole marquees have long been a popular choice for outdoor events, offering a classic and elegant atmosphere with their timeless appeal and versatility. This paired with the herbaceous border at Newby Hall, renowned for its award winning beauty, was the tranquil space that served as the setting for Sasha's unique wedding breakfast. The natural colours of the surrounding flowers, ornate sculptures and meticulously manicured lawns provided a stunning backdrop for the marquee.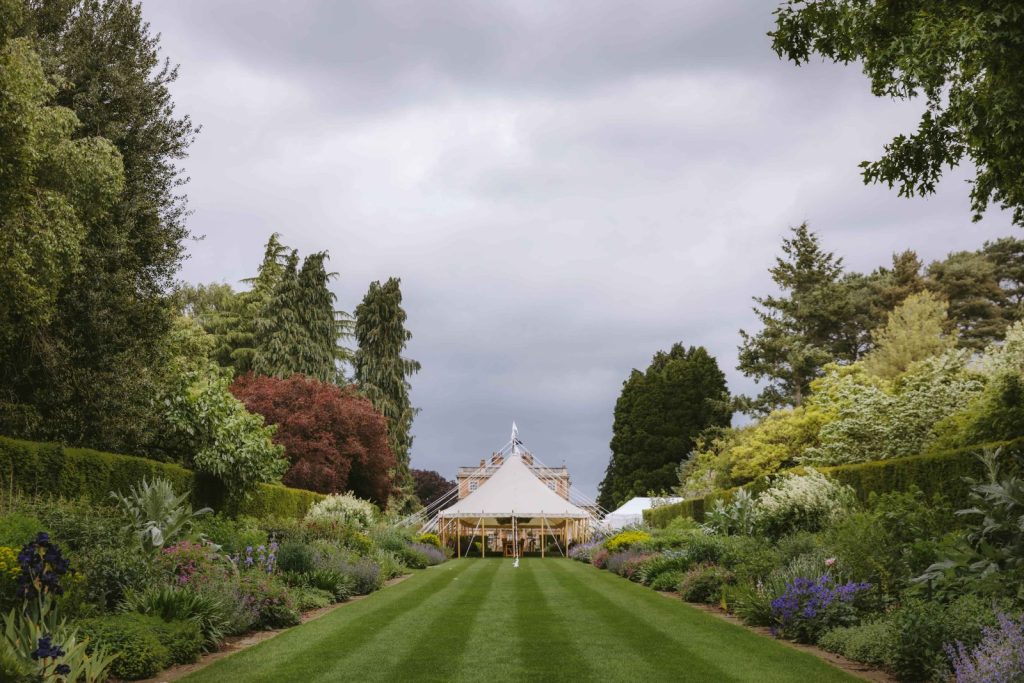 Working closely with Sasha and Newby Hall, the team here at Wills crafted a bespoke dining marquee to nestle perfectly in the magnificent 172m herbaceous borders. The marquee with its rolled up clear walls offered a stunning view of the flowers as a backdrop for each seat at the long table, allowing guests to enjoy an outdoor dining experience while still being protected from the elements.
The combination of our elegant ivory canvas, hand crafted wooden poles and stunning floral arrangements created an atmosphere of understated luxury which tied perfectly into Sasha's theme of 'rustic romance' utilising our rustic trestle tables, crossback chairs and Sasha's intricately designed place settings.
"A bespoke, open-sided marquee was created by Wills Marquees to cultivate 'a kind of outside-inside dining experience' … A vista of flowers formed a backdrop to every seat on the long table. Sasha created a nameplace and tile for every guest in her characteristic elfin style." – Tatler
The family were keen to support local wedding suppliers from Yorkshire, with 10 different beers on taps provided by Yorkshire Craft Beer , Yorkshire Party providing the wedding breakfast and Blossom Tree Cake Co creating the impressive cake inspired by the Amsterdam canal houses. All perfectly coordinated on the day by wedding planner Lucy Wright Events.
We take pride in our flexible approach, so whether you're planning an intimate gathering or a large-scale event, we'll work closely with you to understand your needs and customise the perfect space, ensuring that your event feels unique and tailored just for you. 
If you're looking to style an outdoor marquee wedding in Yorkshire, Teesside, County Durham or Northumberland and would like some advice please get in touch or have a look at 'A Guide to Planning A Marquee Wedding' for more wedding marquee hire info.
To read the full article as featured in Tatler click here
All images by Nigel John