Choosing a historic location as your wedding venue can create a timeless and romantic ambiance that's hard to match. Jervaulx Abbey, situated in the heart of North Yorkshire, is not just a historical treasure with centuries of stories; it also holds significance as part of Anna's family home. This made it the perfect choice of place for Anna and Chris to celebrate their wedding. Recently highlighted on Love My Dress, their wedding at Jervaulx Abbey showcased a blend of history and style set against the picturesque backdrop of the Yorkshire countryside.
Wildflower Paddock with festooned walkway
In the abbey's wildflower paddock, Anna and Chris selected a Wills 12/34 marquee for their celebration. Its ideal central placement allowed the wildflower borders to gracefully frame a festooned walkway, setting the stage for the couple's arrival. Anna and Chris surprised their guests with a performance from the New York Brass Band post-ceremony. The energetic tunes continued during the reception drinks and the band later led their guests through the ruins to the paddock, where the four pole canvas marquee awaited.
Their pastel coloured flowers were relaxed and loose, which blended with the lively spring surroundings. Emma from The Petal Studio, curated napkins, runners, candles, and table flowers to match the relaxed charm of the Wills rustic trestle tables and crossback chairs. The trestle tables held sharing platters from The Hog & Apple Food Co caterers which were perfect for guests to serve themselves, encouraging sharing and conversation.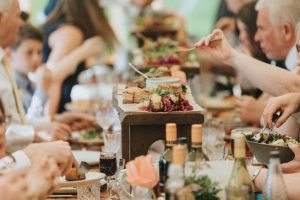 Then followed their cake, which was of course created by Anna herself and her sister who run Where The Ribbon Ends. The cake was served alongside a dessert table which they also created and displayed on stands with bouquets scattered between to add another pop of colour.
Opting for a spacious large dance floor, Anna and Chris set the stage for a lively evening celebration with their fun first dance. They enlisted the talents of Marc & Abi through Jonny Ross Music for the night, orchestrating a festive atmosphere with confetti pops and plenty of enthusiastic dancing from their guests.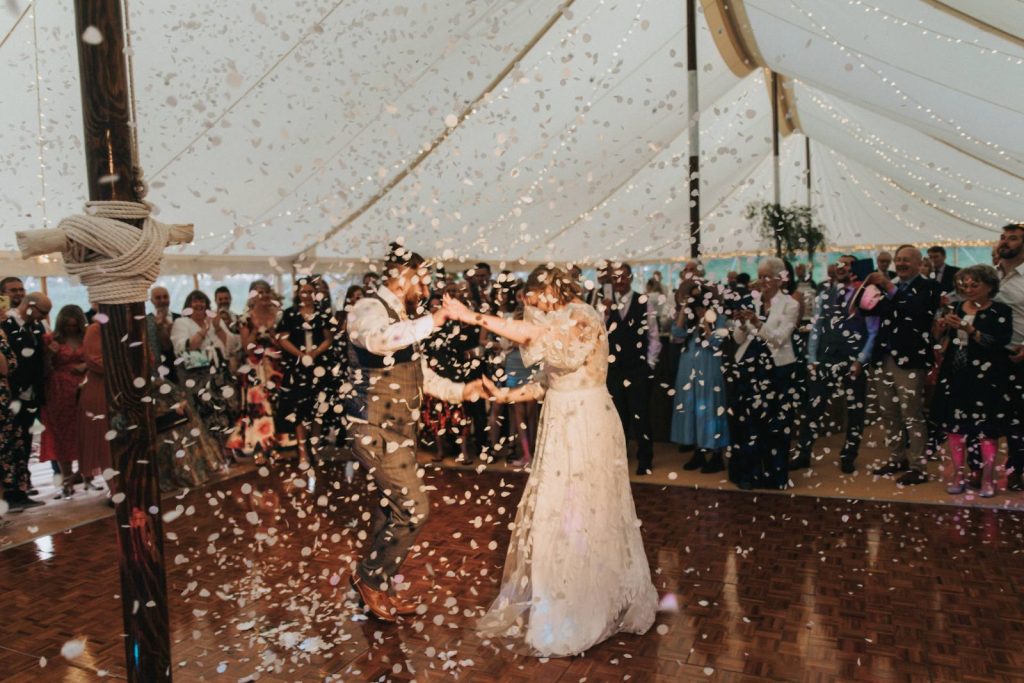 We take pride in our flexible approach, so whether you're planning an intimate gathering or a large-scale event, we'll work closely with you to understand your needs and customise the perfect space, ensuring that your event feels unique and tailored just for you. 
If you're looking to style an outdoor marquee wedding in Yorkshire, Teesside, County Durham or Northumberland and would like some advice please get in touch or have a look at 'A Guide to Planning A Marquee Wedding' for more wedding marquee hire info.
The fabulous Yorkshire wedding suppliers for Anna & Chris included:
Venue: https://www.jervaulxabbey.com/wedding/
Music : https://www.newyorkbrassband.co.uk/ and https://www.marcandabi.co.uk/
Photography: https://www.jamesgreenstudio.com/
The Petal Studio: https://www.thepetalstudio.co.uk/
Food: https://www.thehogandapple.co.uk/ and https://www.spudsandbros.co.uk/
Cake and Desert Table: https://wheretheribbonends.com/
Bar: https://www.thebarstewards.co.uk/
To read the full article as featured on Love my Dress click here